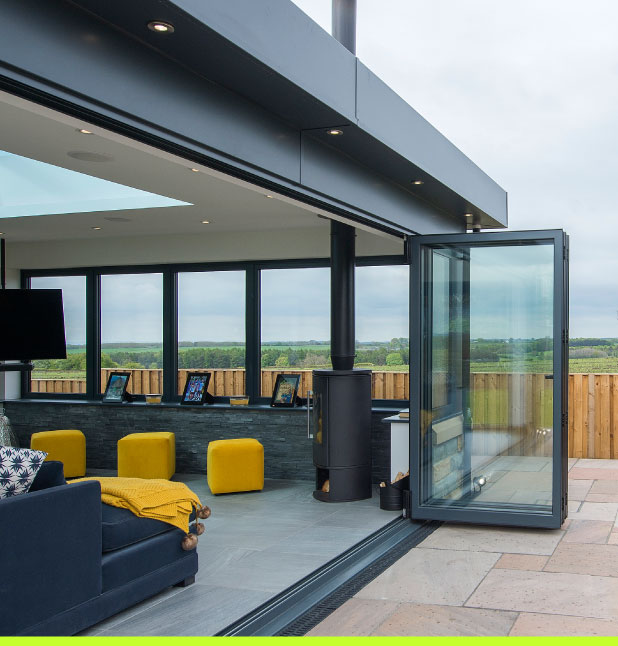 Transform your home into a grand design with the highest quality aluminium bi-folding doors from the experts. Turn your once ordinary room into a modern, light, inviting space. Blur the lines between the inside and out, creating a seamless link between your home and garden – then open it all up in seconds to create an impressive space for entertaining or relaxing with the whole family.
All our bi-folding doors are bespoke, making them the ideal
product for transforming any room into a space with real wow factor. Our three types of bi-folding doors each offer their own features and benefits such as flush thresholds, everyday traffic door options, integral blinds and Secured by Design accreditation. And our doors are available in over 200 colours and finishes so you can find your perfect match. In addition, everything comes with a reassuring 10-year guarantee and all the correct building regulation compliance documentation. By coming directly to us, you'll also get the best possible price and advice.
ANYTHING IS POSSIBLE
INTRODUCING BI-FOLDING DOORS
"We offer three bi-folding systems that are all completely bespoke, the XP View and XP10, and our latest system the XP Vision. Each system has its own features and benefits, but the main difference is that the engineering behind the XP View means it can be manufactured with large folding panels. Years of research, development and modification has allowed us to perfect the system and then take the technology even further with the XP Vision. Both bifold door systems boast four large stainless-steel runners and heavy-duty guidance runners in the head for unrivalled stability. The manufacturing process includes injecting the panels with a liquid component, which sets rock-hard, making each panel light but as solid as concrete. Both doors are the perfect choice if you're looking for a great looking premium product that is secure and reliable, with the XP Vision offering slimmer slightlines, better thermal
efficiency, and larger folding panels than the XP View. Both are world class products that can transform any home.
The XP10 offers a more cost-effective alternative to the XP View and XP Vision.
The system is still expertly engineered and proves to be one of our most popular
products. The XP10 is perfect for residential homes and applications when smaller folding door panels are required. All our bi-folding doors are manufactured in-house and come with the same comprehensive guarantee, our sales team will be happy to talk through the features and benefits of these industry leading products to find which is best suited for your requirement
• Typical sight line of just 120mm
• Suitable for large expanses in excess of 10 metres
• Maximum panel width of 1200mm
• Maximum panel height of 3000mm
• Size of overall maximum panel up to 3m2
• Adjustable rebates within the side jambs
• 90 degree moving corner post solution available on odd-odd panel configurations and 15mm low threshold
• Surpasses all requirements of document L 2016 and Part Q 2015
• Typical U-value 1.5 W/m2 k with 1.0 W/m2 k glazing. Additional high insulation options available to lower U-value further
• Rebated bottom track tested up to 600Pa water tightness
• Low threshold has a 15mm upstand above FFL and a deep drainage trough to provide a weather performance suitable for most ground floor locations tested to 300Pa watertight level
• Secure by Design accredited product
• Typical sight line of just 105mm
• Suitable for large expanses well in excess of 10 metres
• Maximum panel height of 3300mm
• Maximum panel width of 1500mm
• Largest panel widths available in the market place of 1.5 metres,     meaning the following configurations can be achieved: 4.5 metres     with 3 panels, 6m with 4 panels and 7.5m with 5 panels. These huge   panel widths will look like sliding doors but with the flexibility of   being able to open the entire space
• Adjustable rebates within the side jambs
• PAS 24 hinges and internal pull handles
• Profiles filled with energy bar and PE insulation foam for enhanced   thermal performance
• Significant energy and cost saving due to the excellent thermal   insulation and U-values (as low as 1.0 W/mK)
• Quadruple locking catches on intermediate panels for enhanced   security
• PAS24 tested
• Moving corner post available with odd-odd panel configurations 
• Typical sight line of just 120mm
• Suitable for large expanses in excess of 10 metres
• Maximum panel width of 1200mm
• Maximum panel height of 3000mm
• Size of overall maximum panel up to 3m2
• Adjustable rebates within the side jambs
• 90 degree moving corner post solution available on odd-odd panel configurations and 15mm low threshold
• Surpasses all requirements of document L 2016 and Part Q 2015
• Typical U-value 1.5 W/m2 k with 1.0 W/m2 k glazing. Additional high insulation options available to lower U-value further
• Rebated bottom track tested up to 600Pa water tightness
• Low threshold has a 15mm upstand above FFL and a deep drainage trough to provide a weather performance suitable for most ground floor locations tested to 300Pa watertight level
• Secure by Design accredited product