Our product innovations are such that the popularity of our sliding doors continues to grow. Thermal enhancements in glass, slender profiles and enhanced security are features that complement our growing portfolio of sliding doors.
Large expanses of glass can transform an ordinary kitchen or living room into a spectacular and inviting light-filled space that changes with the seasons. An uninspiring dining room can enjoy panoramic views of your garden and beyond – making it the perfect setting to entertain guests or enjoy a private moment in your own dream space.
Our super-sized sliding doors offer an even bigger glass area with minimal
aluminium profiles between panes, which allow you to make the most of your view. There are lots of opening configurations and our sliding doors are available on twin track and triple track systems.
THE MAGIC INGREDIENT: ALUMINIUM
The strength of an aluminium profile ensures that individual panels can be manufactured well in excess of five square metres, creating a striking visual impact whether you are viewing the product from inside or outside the property. Despite their strength, the profiles are extremely slim, meaning minimal sight lines both at the head and foot of the door, but also a slim sight line where the panels meet.
CHOOSE YOUR FAVOURITE TRACK
Our two panel and four panel sliding doors offer a 50% clear opening. And thanks to the quality and strength of our sliding door systems, we can manufacture a door in excess of 5000 mm x 2400 mm split into just two sections, and the doors themselves can be manufactured more than 2800 mm tall.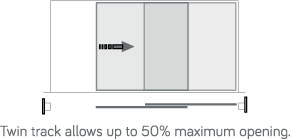 Our triple track systems offer numerous flexible configurations:
• Three panels can create a two-thirds opening with our recommended                   configuration of two panels sliding behind a fixed panel.
• For extremely large doors six panels with three stacking either side offers           both symmetry and a huge clear opening, creating an impressive sliding             door which will transform your property.
• The massive 150kg weight limit per panel ensures that our XP Glide doors can    be manufactured more than 6500mm x 2400mm split into just three sliding        panels, making moving glass walls that create vast openings allowing you to      transform your space.
• Our lift and slide doors the XP Glide S & XP Infinite can go even bigger, ideal         for grand scale projects and doors nearing three metres high. The panels can     glide  open at the lightest touch and can be locked in any position to create       a bespoke arrangement.
• A unique quadruple track is available with our XP Infinite ideal for large doors    of more than ten metres allowing for three panels to slide behind a fourth to      create an impressive 75% clear opening.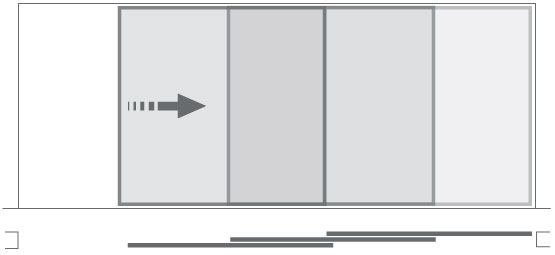 Triple track allows up to 66% maximum opening.
Slender XP Glide doors and huge picture windows encase this large open-plan kitchen and living area, offering panoramic views. The doors themselves span widths exceeding eight and four metres respectively. They are bridged together by equally tall fixed windows and bespoke insulated pressings that blend the individual doors and windows together to complete the look of this distinctive, modern single-storey extension. Expertly designed, the new space is a true picturesque setting but with the flexibility to open everything up to the garden, as the huge glass doors allow for a seamless transition from inside out to the new external raised patio area. Visually stunning both internally and externally, the real beauty of this new space is the lifestyle benefits it will allow the homeowners, from cosy winter nights through to family BBQs on those lo ng summer nights.
Flexible configurations, larger glass areas, rapid delivery and installation times – say hello to the XP Glide. The XP Glide is our best-selling and most popular patio door. The beauty of the XP Glide is its massive glass areas. Minimum aluminium profiles between panes means unrestricted views and more natural light.
The XP Glide is an extremely strong door, and is suitable for replacing existing products as well as new builds and extensions. It is also available with a boldfeature handle. Its 35 mm vertical sight line and ease of use make it the ideal choice for many of our customers.
BENEFITS INCLUDE:
• Suitable for commercial and residential applications
• Maximum weight limit per panel of 150 kg
• Maximum height 2550 mm
• SKG security tested
• Twin, triple track and wider configurations available
• Typical sight line of just 35 mm
• Overall U value of 1.6 W/m2k
• Air Class 3, 600 PA – equivalent to 70MPH winds
• Wind Class AE, 2400 PA – equivalent to 142MPH winds
• Water Class 7a, 300 PA – equivalent to 50MPH winds and water being pulsed at     the frames under pressure• Stainless steel feature handle available
• Full complement of doors, windows and roofs to suit.
Full height XP Glide doors slide open to connect the modern structure seamlessly with the garden, turning any living space into an airy and appealing part of the home.